Now when it comes to starting up a website on a budget the first thing you will need is web hosting. I know there are a bunch of free web hosting sites out there but you really don't own the site you are building which is something that you really want when starting an online business. Now I have personally done some research out there for you and found an awesome company that has a special on web hosting for less than $100 for the first year. Now as always I do recommend that you get the 3 or 5 year plan since it will be cheaper in the long run, but if you are on a budget the one year will get you started for less than $100 and You Get A FREE Domain.

Now once you have your web hosting then the next item you will need is an AutoResponder. Here is a cool thing I have found you an autoresponder that has a free trial for the first month so it won't cost you anything extra for the first month. Now some marketers will tell you that you don't need an autoresponder and I'm here to tell you that you do if you really want to scale up your online business. People I'm here to tell you that the real money is in the LIST.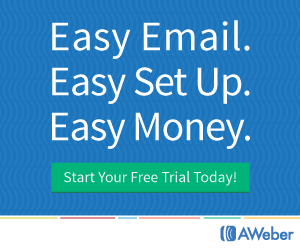 Disclaimer: I am an affiliate of BlueHost and AWeber and do get compensated when you click on one of the above links at no extra cost to you. I also cannot guarantee that you will make anything either.