Now once you have your web hosting then the next item you will need is an

AutoResponder

. The reason why you will need an autoresponder is because you will need to capture your traffic so you can keep in contact with them. Here is a cool thing I have found you an autoresponder that has a free trial for the first month so it won't cost you anything extra for the first month. Now some marketers will tell you that you don't need an autoresponder and I'm here to tell you look at what they do. I'm almost willing to bet they had you signup to be on their list. People I'm here to tell you that the real money is in the LIST.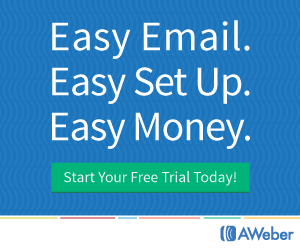 Disclaimer: I am an affiliate of AWeber and do get compensated when you click on one of the above links at no extra cost to you. I also cannot guarantee that you will make anything either.